Gaby Torres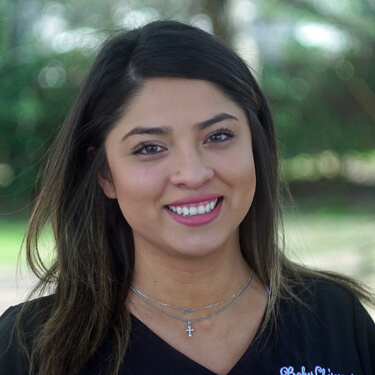 A Pflugerville native, Gaby attended the College of Healthcare Professions for her Physical Therapy Technician certification and graduated with honors. With a background and passion for physical therapy, Gaby joined Baker Chiropractic and Rehabilitation Centers in mid-2017. As our Physical Therapy Technician, she can often be found moving from room to room assisting patients throughout their treatment. She provides the energy that helps people enjoy their rehabilitation! Gaby has completed many certifications and courses including medical terminology, OSHA/HIPAA training, anatomy & physiology, electrical stimulation, pathology, hydrotherapy, ultrasound, medical office support, and therapeutic exercise trainings. She is also CPR certified through the American Heart Association.
Outside Of The Office
In her free time, Gaby enjoys spending time with her daughter, friends, and family, working out, and finding the next adventure outdoors.

Baker Chiropractic Centers | (512) 989-8111