Chiropractic Care in Pflugerville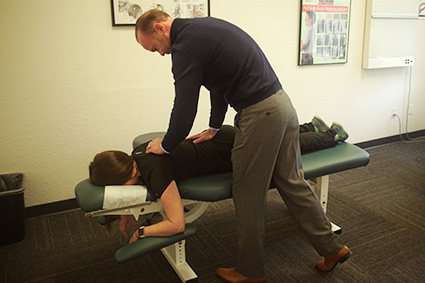 The Technique of Chiropractic Adjustments
Baker Chiropractic Centers is dedicated to using advanced techniques in the management of your pain. We provide experienced spinal correction with new and gentle chiropractic techniques that are state of the art.
Never in the history of chiropractic have techniques been so effective, comfortable, and safe. The Diversified Technique is a tried and true method at which Dr. Baker excels, and is the main technique used in our office.
The Activator Technique is also an ideal technique for more sensitive pediatric or geriatric patients as it requires minimal to no force. Dr. Baker utilizes a number of additional techniques, including ART, extremity adjusting, and physical therapy.
Chiropractic Treatments We Offer
Corrective Exercises
Education is an integral part of your recovery. We teach our patients special "blueprint" exercises to perform at home. These exercises can help strengthen and correct their own unique issues. Performing these exercises in the comfort of your own home alongside your regularly scheduled visits can help improve the efficacy of your spinal adjustments.
These exercises are generally designed to realign the muscles and connective tissues that have been affected by your skeletal misalignment.
Massage Therapy
Massage therapy is an alternative choice for treating musculoskeletal pain for many patients. This treatment approach is preferred by those who prefer a more natural, conservative approach, however this type of care is also highly beneficial alongside any series of adjustments.
We provide massage therapy specifically tailored to each patient's condition. The benefits of massage therapy can include increased blood circulation, reduced swelling, relaxed muscles, alleviation of muscle pain and spasms, and assistance in recovery and range of motion.
Lifestyle Advice
Hitting the refresh button on lifestyle choices can be overwhelming and confusing. We provide coaching to help direct you on what to avoid or alter in order to prevent aggravation of your particular disorder.
We recognize that each patient is a whole person, and view their journey towards true health and wellness as a collaborative effort. Our goal is to work together with each patient in order to help them achieve a happy, fulfilling lifestyle full of the activities they enjoy the most.
Nutritional Counseling
At Baker Chiropractic Centers, our recommendations on nutritional supplements and healthy dietary choices are designed to enhance each patient's specific treatment plan, and aid in the return to optimal health.
Dr. Baker draws on an extensive knowledge of supplements, vitamins, and their interactions with one another in order to provide a structured nutritional program based on your individual needs.
Spine & Posture Screenings
Dr. Baker relies on posture and spinal screenings to reveal important health information that helps unlock the door to your unique path to wellness. We regularly provide screenings at area malls, community events, health fairs, and places of employment.
Will My Insurance Cover Chiropractic Visits?
Many health insurance plans cover chiropractic appointments and adjustments. Baker Chiropractic Center accepts United Healthcare, Blue Cross Blue Shield, Aetna, and Cigna plans for chiropractic care in Pflugerville. Our staff wants to help you have the best experience possible, so feel free to contact us with any questions. Dr. Baker is your local solution to improved health and wellness. Positively affect the lives of your families, friends, and coworkers by improving your own life today. Contact us to set up a series of screenings for your event or workplace.
CONTACT US

Chiropractic Care Pflugerville | (512) 989-8111